12th in La Route du Rhum-Destination Guadeloupe, an achievement for Emmanuel Le Roch
Découvrir
Emmanuel Le Roch, skipper of the Edenred Class40, crossed the finish line in Pointe-à-Pitre of the 12th edition of the Route du Rhum-Destination Guadeloupe on Saturday November 26 at 03:35:25 (Paris time). After 16 days 13 hours 20 minutes 25 seconds of racing, Emmanuel takes a fine 12th place out of the 55 Class40s entered in this legendary event and thus completes his first solo transatlantic race.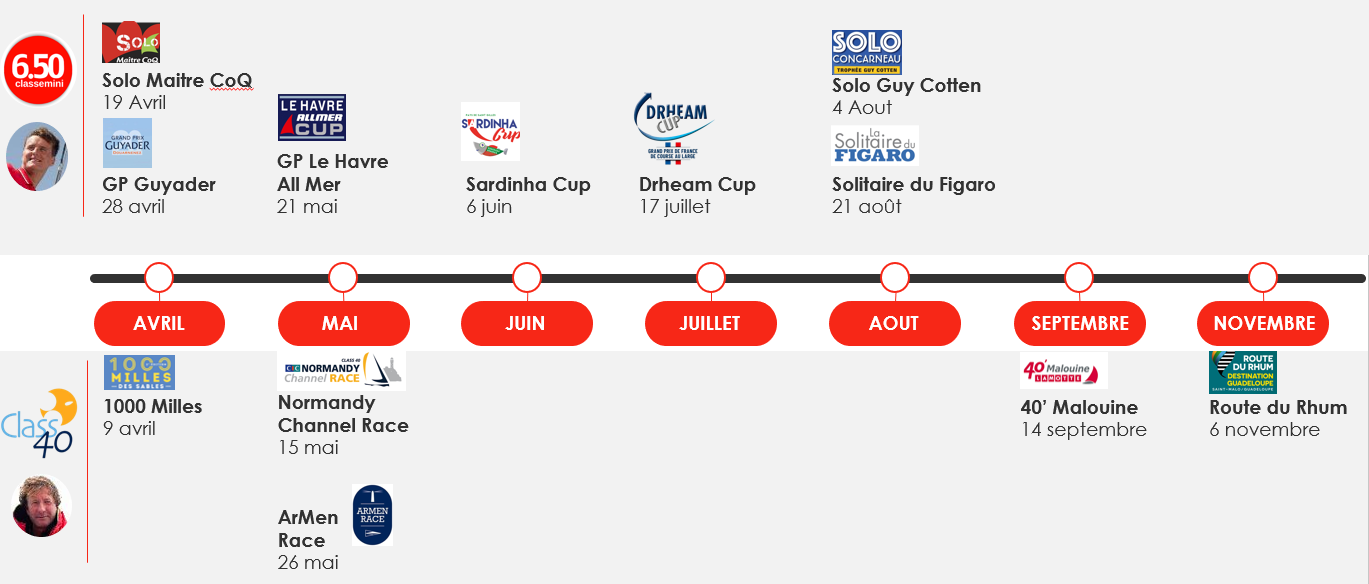 #DreamTeam in videos
DreamTeam Edenred - Looking back at 2021 (16 December 2021)
Edenred Dream Team: A new adventure begins (14 June 2021)
Transat Jacques Vabre - 2019 in review (13 January 2020)
Transat Jacques Vabre - Episode 3: Bon voyage! (31 October 2019)
Transat Jacques Vabre - Episode 2: Follow the guide (17 October 2019)
Transat Jacques Vabre - Episode 1: Two skippers, one dream (8 October 2019)
Emmanuel Le Roch brings Basile Bourgnon aboard for the Transat Jacques Vabre (21 May 2019)
Edenred sets sail for the second year in a row (21 March 2019)
Edenred s'engage dans le sponsoring voile avec Emmanuel Le Roch (11 juin 2018)
Team Edenred: three men and two boats

Knowing smiles, shared desire, mutual respect: just a few minutes spent in the company of Emmanuel Le Roch, Basile Bourgnon and Peyo Cremades is enough to see the strong bond they enjoy. They share a passion for competitive sport, travels, meeting people, offshore sailing and, most importantly, speed!

The Edenred Class40

The Class40 monohull category, which dates back to 2005, has successfully risen to the challenge of offering a high-performance, robust and accessible boat that allows professional sailors and experienced amateurs alike to fulfill their dream of sailing on the open water. Launched in 2021, the Edenred Class40 is a latest-generation sailboat ready to take on any challenge.

The Edenred Classe Figaro 3

A veritable revolution in the world of offshore racing, the Figaro Bénéteau 3 is the world's first production one-design foiling monohull. Among the innovations, the installation of foils whose profiles are turned inwards unlike the foils that can be seen on the Imoca, a thinner and deeper keel and a mast set back to allow a larger sail plan.